Adult Faith Formation
Team Members: Lisa Amthor, Cindy Shea, Teresa Colucci, Teri Moran, Craig Brown, Margaret Smekar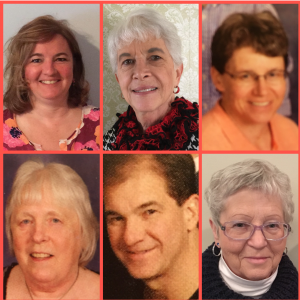 Growing in Faith is something that continues for a lifetime.
St John Vianney Parish offers many opportunities for adult formation throughout the year.
Our Main Offerings Are…
Bible Studies
These studies are offered throughout the year and are held on Monday Mornings 10:00-12:00, occasionally there are additional classes held on other days and times.
These studies are easy and are meant to help the participants become familiar with Holy Scripture and to learn how to apply it to their daily lives. These studies are published in the bulletin, on the Adult Faith Formation Board in the Gathering Space and on this website.
These were recent responses to the question, "What do you like about participating in our Parish Bible Studies?"
They don't make me feel like I'm stupid.
They bring Scripture to life.
I like all the discussion and sharing that we do.
Studying like this helps me see how Scripture relates to my own life.
Marian Studies
These are a series of classes that need to be taken in order because they build upon one another. Most of these classes are more like a retreat than a factual study. The participant does some reading, responding, and pondering each day of the weeks the class is going on. This study really helps one to grow in their Catholic Faith. It causes you to think about where you are now in your faith and where you want to be at the end of your life. Then it shows you how to get from now to then. It is challenging but really opens you up for growth. It is well worth the time one puts into it. The classes are listed below in the order they are to be taken.
33 Days to Morning Glory
Consoling the Heart of Jesus
Wisdom and Works of Mercy
33 Days to Merciful Love
Devine Mercy in the Second Greatest Story Ever Told
Book Club
The Book Club meets on the 3rd. Mondays at 6:00 pm & Tuesday at 1:00 pm of most months.
The purpose of the Book Club is to introduce our book-lovers to good books that touch our faith and provide us an opportunity to share our opinions regarding the book that the group has read for that month. Each person procures the book that is to be discussed that month, reads it before the group meets and then joins the group for a lively discussion of the book.
The books for this year are:
March 19/20, 2018 Hail Holy Queen By: Scott Hahn
April 16/17, 2018 Father Joe By: Tony Hendra
May 14/15, 2018 Word by Word By: Sarah A. Reinhard
September 17/18, 2018 The Way of Divine Love By: Sister Josefa Menendez
Small Faith Sharing Groups
What is a small faith sharing group? Simply put, a small faith sharing group is a gathering of people who are committed to support one another in their faith journey. Small faith sharing groups allow us to share our faith with others and to grow together in community. Using prayer, shared experiences, and explorations of faith, these small groups can create in a smaller setting a community that enhances the life of the entire parish. They provide the opportunity within a large parish to get to know individuals in a more personal way. They provide the opportunity to support and encourage others.
We have Small Faith Sharing Groups that meet during Lent. Some groups decide to meet at other times during the year as well. The groups often meet in homes and some of them meet at the parish center.
Enrichment Opportunities
These are experiences that are usually one time offerings. They vary in the experience they offer and they usually provide opportunities for learning and fellowship.
Some of the things that have been done in the past include:
Visit to Holy Doors
Visit to the Bible Museum in Bay City
Pilgrimage to the Solanus Casey Center in Detroit
Theology On Tap
Periodically we meet with other Catholic Parishes in our area and have the opportunity to ask Priests and Sisters questions we have about our faith and how it is practiced. We meet at the Trillium Banquet Center on State Street. You can purchase whatever beverage you would like and then we all pitch in to pay for the pizza that is provided for our enjoyment. It is a fun way to meet others and learn new things about our faith.
Theology On Tap dates are published in the bulletin, on the Adult Faith Formation Board in the Gathering Space