Musical Events
JOURNEY TO THE CASTLE OF THE SOUL!
Wednesday, March 4th – 2020 at 7pm @ St John Vianney
We are always giving our musical gifts back to God and those around us to spread His Word!
JOURNEY TO THE CASTLE OF THE SOUL! An Amazing Contemplative musical prayer written by Tony Alonso and Liam Lawton. Based on Teresa of Avila's book: The Interior Castle. Please join our choirs and musicians in this Lenten Evening of meditative singing, and beautiful prayer in the setting of hundreds of candles. This is the perfect way to get away from the hustle and bustle of life, to relax and focus on the true meaning of the season of Lent.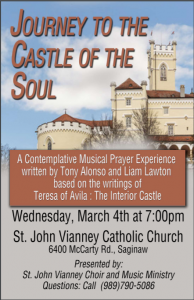 "The Way of the Cross" Silhouette Stations of the Cross set to the music written by Ron Haeske
Wendesday, April 1st, 2020 at 7:00pm at St John Vianney – FREE Immediately following the Soup Supper (6pm supper)
JAM (Jesus and Music) NIGHT OF PRAISE AND WORSHIP….FRIDAY, APRIL 24TH-2020 AT 7:30PM
Thank you for all your help and generosity for the Mustard Seed Shelter in 2019! The video below will give you a little glimpse into what to expect for this years Night of Praise and Worship….SAVE THIS YEAR'S DATE : FRIDAY, APRIL 24TH AT 7:30PM AT St JohnVianney! This is an ecumenical concert and the music covers many songs you'd hear on any Christian Station. The Newsboys, Chris Tomlin, Lincoln Brewster, Michael W. Smith, Casting Crowns, Third Day, Steve Angrisano, Tom Booth, Ron Haeske and so many more! Check us out on Facebook! JAM Jesus and Music Praise Band
OTHER EVENTS WE HAVE DONE….
TAIZE – an ecumenical, contemplative musical prayer service in a candle light setting. A Taizé worship service involves sung and chanted prayers, meditation, a period of silence, liturgical readings, and icons. There is no preaching. The style of prayer practiced at Taizé has attracted many worshipers from around the globe and from many different denominations. The prayers consist of "short chants, repeated again and again," according to an introduction in a Taizé songbook. "The words are sung over many times." Advent and Lent
JOURNEY TO THE CASTLE OF THE SOUL.…..A Contemplative Musical Prayer written by Tony Alonso and Liam Lawton.
SPECIAL GUEST ARTISTS –

Amanda Vernon: http://amandavernon.com we hosted Amanda for a wonderful prayer and praise concert in 2014
Sarah Hart: Sunday, March 12th 2017 at 4pm – cost $10 Sarah is on of the leading figures in contemporary Catholic music today. Her signature blend of folk, pop, and rock delights listeners of all ages. She boasts 9 albums as a solo artist and often co-writes with artists like Curtis Stephen, Steve Angrisano and Jessee Manibusan. Her songs have been covered by Amy Grant, Celtic Women, Matt Maher, Jason Crabb and The Newboys. Sarah was invited to perform for Pope Francis a crowd of 150,000 in St. Peter's Square.