Social Committee
Euchre Tournament Feb 22, 2020 at 7:00 pm
Our mission is fun! Throughout the year we provide different events for all ages. Some of those events include: Family movie night, Chili cook-off, Card/Game Party, "In Search Of" (going from place to place solving clues) and Beer and Wine tasting. We look forward to sharing food, fun and fellowship with all parishioners.
SATURDAY, FEBRUARY 22ND AT 7PM – only $5 – which includes, PRIZES, Pizza, Pop, Coffee, Adult Beverages and FUN FUN FUN ! Sign up on the blue board in the Gathering Space!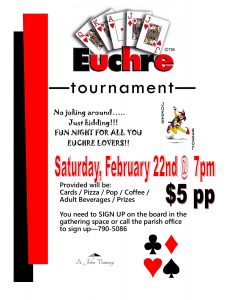 Theology on Tap rotates between parishes, focuses on Adults over 21. Each one features a different topic and speaker. Join us.
2019 Events: October 18, 2019 : In Search Of…..
October 27, 2019: Trunk Or Treat
January 18, 2020: Family Game/Card Night
February 22, 2020: Euchre Tournament