Music Ministries
Current Musical Events 2023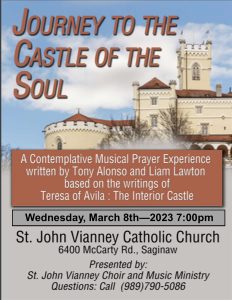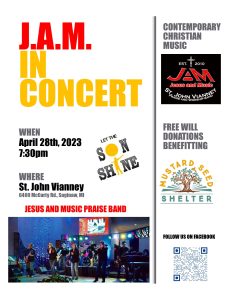 Check our our Facebook pages
https://www.facebook.com/profile.php?id=100064624484897
https://www.facebook.com/JAMpraise
Music Ministry
We are so very excited to begin regularly scheduled rehearsals and ministering at masses. Choir rehearsals began August 23rd, 2022 at 6:30 pm and then will be singing for masses, and Chimes will begin on August 30th at 4:30pm their first performance TBA ! JAM (Jesus and Music Praise Band) was back this summer with two public performances – the YMCA of Saginaw and Thomas Twp. Park – Annual Concert will be April 28th at St John Vianney at 7pm
The music ministers of St. John Vianney are dedicated to the service of our community in all our masses, services, and functions by ministering the Word of God through our gifts of music.
Our goal is to enable the full, conscious, and active participation of all the assembly gathered for worship at St. John Vianney by inspiring those assembled to sing, bringing them closer to God though sung prayer.
We realize that effective music ministry needs to connect with the assembly. Our assembly at St. John Vianney has diverse musical tastes ranging from chant to the latest contemporary praise and worship.
Director of Music Ministry Roberta Conley roberta@sjvsaginw.org
Music is a great gift from God, and one that we should share and encourage others to share as well. I am a teacher of music. I encourage and coach others to have an appreciation for all styles of music in our ministry and to give back of their talents to help others pray through their music.
I have a degree in Instrumental Music Education with a minor in flute performance from Western Michigan University. I taught music in the Catholic Schools for over 20 years, and have been in music ministry as cantor, flutist, and director of many different ensembles for over 30 years.